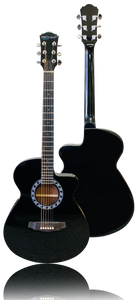 The FG-620 Acoustic is our Beginner model Fretlight Guitar specifically priced and designed for the beginning student player. The design gives you a great introduction to learning guitar! The two-way truss rod ensures that no matter what the environmental conditions, the neck remains straight and true.
The FG-620 Acoustic includes our patented wireless lighted learning system and allows a player to light-up songs, chords, scales and riffs right on the neck of the guitar. The Fretlight Wireless Acoustic connects to a smartphone or tablet via Bluetooth BLE.
Maple neck
Two way truss-rod
21 frets
closed back tuners
25.5" scale length
12" neck radius
Includes a micro-USB charger with wall adapter, Allen wrench for the two-way truss rod, and System Operation Guide.

Bluetooth Compatibility

The Fretlight Wireless guitar utilizes Bluetooth BLE technology. Your mobile device or computer must have Bluetooth BLE, commonly referred to as Bluetooth 4.0, to connect to a Fretlight Wireless guitar. Transmission range will vary, 10-15 feet is best, up to 50 feet is common. 
The Fretlight is not compatible with the Microsoft Surface or Surface Pro.