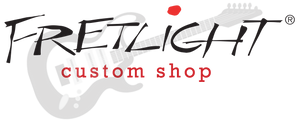 The new Fretlight Custom Shop gives you the ability to configure your Fretlight Guitar in custom colors and pickguard options. The FG-621 Fretlight Strat-style Electric Guitar and the brand new FG-623 Tele-style Electric Guitar can be configured in any one of five custom 60's Era colors.
What Can you Do With a Fretlight Guitar?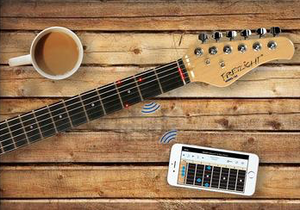 Learn Chords and Scales
The Guitar Tunes app has a free chord and scale library with over 5,000 chord and scale patterns to choose from - in any key. Light-up the entire fretboard or just one of the many box patterns along the neck. Or use one of the Jam Along songs in Guitar Tunes to improvise using any scale or play along with the rhythm using the chord tones for the song.
Watch the Demo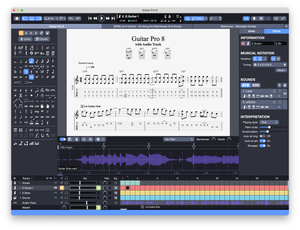 Play FREE Tablature
Whether its Guitar Pro software for your PC/Mac, or the Guitar Pro Mobile app for iPhone/iPad, you can download thousands of free tabs/songs from the web and watch them light up on your Fretlight. Loop any section, slow it down, change keys or change to a custom tuning, and more! Guitar Pro even has a full chord and scale library so you can even show a scale and improvise!
Watch the Demo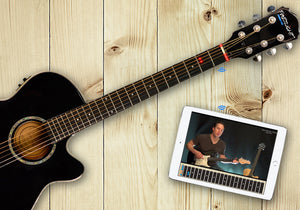 Take an Interactive Video Guitar Lesson
Our Guitar Tunes app lets you download over 100 interactive videos that light-up the Fretlight as the teacher in the video is playing. Whether it be lessons or Artist videos or Lick videos, we have it all so you can keep learning quickly and efficiently. You can loop an section or exercise and slow it down to learn it at your pace.
Watch The Demo
The Fretlight FG-623 Classic - Sunburst with White Pickguard
The Fretlight FG-623 Classic
The FG-623 Classic electric is an amazing guitar in every respect. The 623 has a classic Telecaster® body shape with an Alder body and a maple neck. The combination of the Advanced Polymer Fretboard and maple neck produces a noticeable increase in tone sustain. The two-way truss rod ensures that no matter what the environmental conditions, the neck remains straight and true.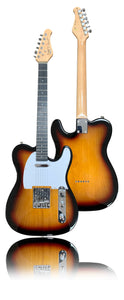 Fretlight Features that give you an Edge
Introducing The Fretlight Classroom
A Revolutionary Way To Teach Guitar!
An extraordinary way to use the patented Fretlight Learning System to teach an entire classroom of students to play guitar. Fretlight Classroom can connect up to 30 Fretlight Guitars and simultaneously display an Instructors lesson in real-time. Fretlight Classroom is a Bluetooth hub between a PC, Mac or Mobile device running Guitar Tunes or Guitar Pro software and up to 30 Fretlight Guitars.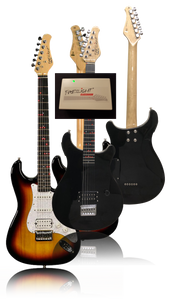 Testimonials
"I've already seen improvement. It's much cleaner and faster to learn when the entire scale lights up and you can just focus on truly playing...you won't be disappointed."

Gary W., Verified Buyer
I am impressed with the guitar. The Katana Fret-Level is the real deal. The guitar plays great. I lit up a scale i had never played and man, i killed it! It woudl have taken me weeks or months to learn it. What a great product and learning system.

Steve L., Verified Buyer
Soooo....easy to use...easy to see...wireless for most things I simply do not like...HOWEVER, this changes everything...Fretlight has offered up an amazing toolbox full of the coolest tools ever...looping...tempo changes...different tunings...somebody's gonna have to check on me next month to make sure I remember to eat....I may only leave the house when there's somewhere else to play

Kevin C., Verified Buyer
Stop looking back and forth! Their right. I'm completely over the top of my expectations...the guitar is hands down worth double the price....Katana fret level is an absolute game changer...DON'T WAIT FOLKS.

Brian J. Verified Buyer, 11/1/2018
 I've been a musician for decades. Someone please tell me why a guitarist wouldn't want tabs playing solos, riffs, arpeggio's, scales, modes, and chords playing right on the neck of their guitar? This is an unbelievable tool...

Jim D., Verified Buyer
The Fretlight Guitar and Guitar Pro
Now you can connect your Fretlight wireless guitar to your PC or Mac via Bluetooth and see tablature light up on the Fretlight's fingerboard. Browse and download the thousands of free tabs on the Ultimate Guitar website. Open the tab in and watch as the tab plays and your Fretlight shows you exactly where to play. Slow it down, loop it, change to a custom tuning and much more!
The concept is simple. Instead of looking back and forth from diagram to the guitar, just look down at the diagrams right on the neck. The result is that you learn faster, have more fun, and memorize quicker.

LEARN MORE