Meet Our Guitar Techs
Our guitar techs are the best. Period. Each guy is a very good player in his own right and each guy knows his way around a guitar. Their expertise is unquestioned and they take incredible pride in setting-up each new Fretlight guitar. There's an art to making a guitar play well and these guys know their stuff. Providing customers the best out-of-box experience is what we do. Say hi to the crew...
---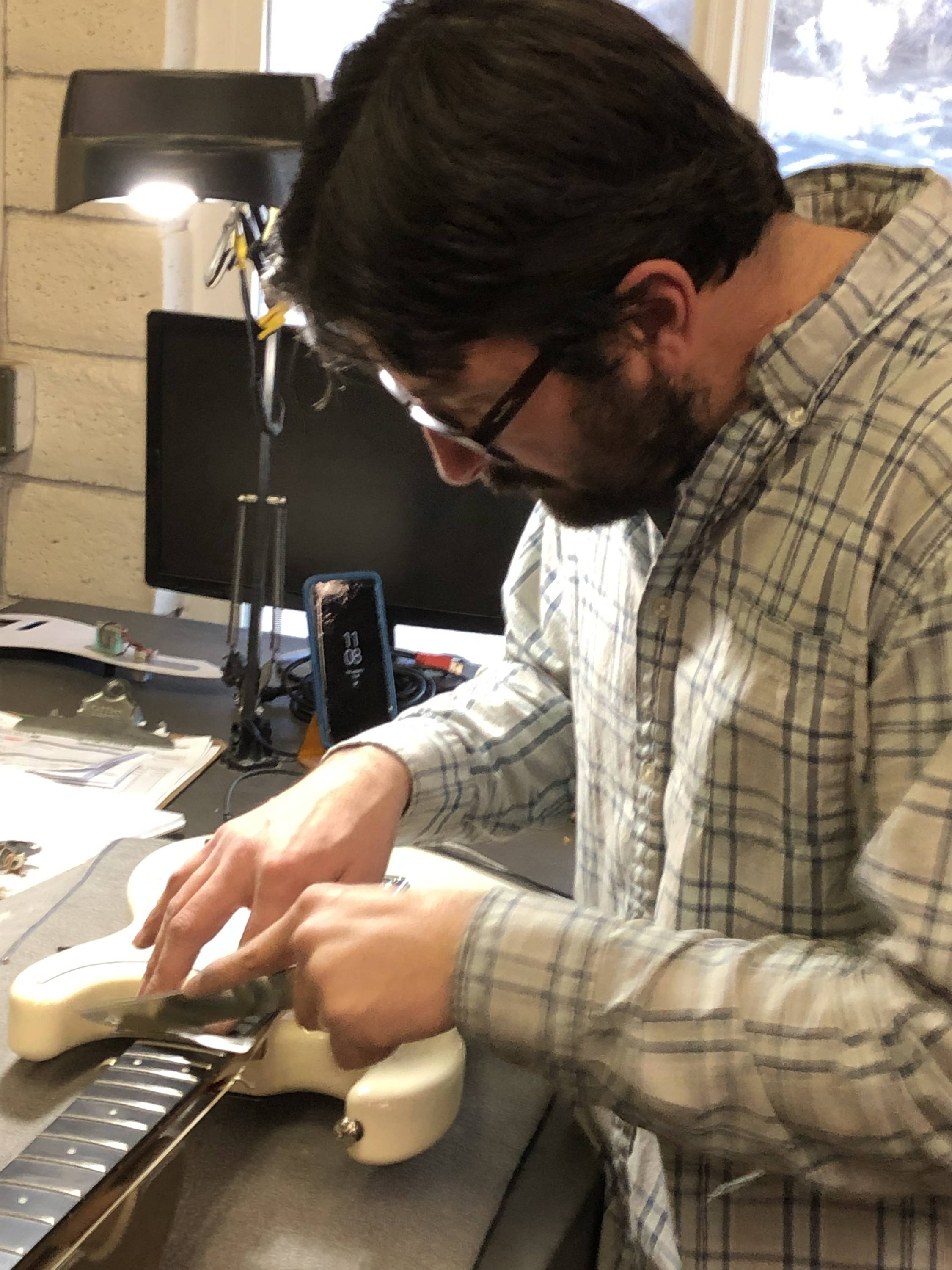 Ryan M. - Lead Guitar Tech

Ryan got his first guitar at the age of 18 and quickly took it apart to see how it works. After that, his passion for playing, repairing and collecting guitars took off. He continued to work on guitars as a hobby until he discovered how to make his passion a career choice.
When Ryan heard about the Roberto Venn School of Luthiery in Phoenix Arizona he immediately pulled the trigger on making his career dream a reality. After graduating with honors from Roberto Venn, Ryan moved back to Nevada and took a job at Guitar Center doing guitar repair. Soon after an opportunity presented itself - a chance to work for Fretlight guitars and he never looked back.
"Working at Fretlight has provided me the opportunity to travel the world while getting to work on amazing guitars. I bring my passion to every guitar that is on my bench."
---
Evan T.

Evan has been working on guitars for as long as he has been playing them. For the last 17 years he has been obsessed in learning as much as he can about the instrument, inside and out. Evan has worked as a guitar tech in local shops throughout the Reno area and has also been a gigging musician playing in several bands which toured throughout the West. While at Fretlight for last 4 years, Evan has worked to perfect his craft and help the company in many different ways.
When not working on guitars, Evan doubles as the marketing assistant for the company and helped transcribe many of the songs and videos presently available on the Guitar Tunes app.
"I definitely have an emotional connection to the guitar. Being able to have such a huge input on customer satisfaction is fantastic. We have a ton of fun here but at the same time, we're all players and we know that customers are relying on us to deliver a great guitar to them."
---
Cole B.
Originally hailing from the Pacific Northwest, Cole attended the University of Nevada Reno, focusing first on music education and later on Jazz/improvisational performance. After getting his degree, Cole focused on being a guitar teacher. Cole is also a gigging musician in the Reno area.
Cole is one of the newest additions to the Fretlight family and he takes great pride in making these instruments play and sound like something you'll have a hard time putting down.
"I LOVE the guitar. Playing them, working on them and teaching others to enjoy them. It's all I ever wanted to do. As much as I dig playing this wonderful instrument I'm equally as passionate about teaching and sharing my approach to music/guitar with others. Between the playability inherent in these instruments and the ingenuity of the Fretlight system, it truly makes for a very intuitive approach to learning and navigating the guitar."